The Life Room
Over the course of the project we spoke with Christopher's family, friends and former students, who shared with us their memories of Christopher, his teaching and, of course, his immense artistic talent. Each of these conversations provided us with a wonderfully personal character study of Christopher, as well as a glimpse into life in the former Thanet and Canterbury Colleges of Art. But they also helped us to understand Christopher's influence on the lives of his students, who together form an impressive network of artists, designers and teachers. There is certainly scope for a more complete consideration of their work, especially as it relates to both Christopher Alexander and the legacy of the aforementioned art schools.

Follow the links below to read and listen to excerpts from these conversations and to view paintings and drawings produced in Christopher's classes. All images are reproduced with the permission of the artists.
Interview with Brian Homewood, 18th August 2020


"He [Christopher] used to turn round to me and say, 'I do it for therapy. I paint and draw for therapy.' He never went out to sell. He did have exhibitions and stuff, but he was… He was like a kingpin amongst all the teachers and stuff like that. Quite a leader really. He used to hold exhibitions and he used to have his friends stuff in these exhibitions. But it never sold for a lot… I don't think that was his prime objective.

He would never stop, but Steve has copied that in a way. I mean, after a Friday evening class, Chris would come along, we'd pop into the pub-this is when we was in our early twenties-we'd pop into the pub afterwards, with Matthew and myself. He'd have maybe half a pint, but he'd be drawing as soon as we got in there. [...] He'd be drawing all the time. You've seen from some of his sketches, he'd be sitting anywhere doing it."



"He'd literally go out in the street and see somebody, and he'd just ask them, 'Would you like to model for my evening class?' Whether it portraiture or even naked, he didn't care, he'd just ask anybody! If he saw somebody that was interesting… He did get some models like that. He wasn't shy of asking. You can only get turned down. But you'd be surprised how many people he did get."


"He was a stickler for getting things right, my God. You know, when you think you're going really well, getting it right, he'd come along and say, 'No, that's wrong.' He'd literally… get his pen- you used to get quite offended- he used to start doing it on your [work]. I didn't want him to do that! It used to get up me… you know! He was a stickler!"

Interview with Christine Jeffryes, 14th August 2020

"I actually have got a painting of myself by Brian Homewood, a portrait that my Mum and Dad bought when I was sitting for those classes, when they didn't have a model.

He [Christopher] was an interesting chap. He probably didn't say a huge amount to us when we first met him. I think he was fairly reserved. Very... Obviously very knowledgeable. And actually a little bit daunting, I suppose, at the age that we were. Certainly I felt that. I was a little bit in awe of him, because he was so… He was this person who had quite a presence and obviously huge talent. But he put us at our ease and he was very complimentary about what we were doing, but also quite critical as well, he would give us good advice. I wouldn't say that he had a lot of words to say, but what he did say was certainly taken on board. It was important to try and please him, if you like. Well, for me anyway, that's how I felt."

"Certainly those classes... they stayed with me. Some of the techniques that he was getting us to use, some of the ways that we were working, they stayed with me right the way through.

Even now I think: what would he say? What would he think about this approach? He was very much a draughtsman. He was very much about measurement and proportion and making sure things were sitting on the page. How you get that composition. But also, as I said, there was that spirit, that… I don't know whether it was like a force? Or a mood? There was something about it. You had to try and capture something more than that accurate measurement. I mean, obviously when we first started a lot of it was about that, which isn't taught maybe quite so formally now."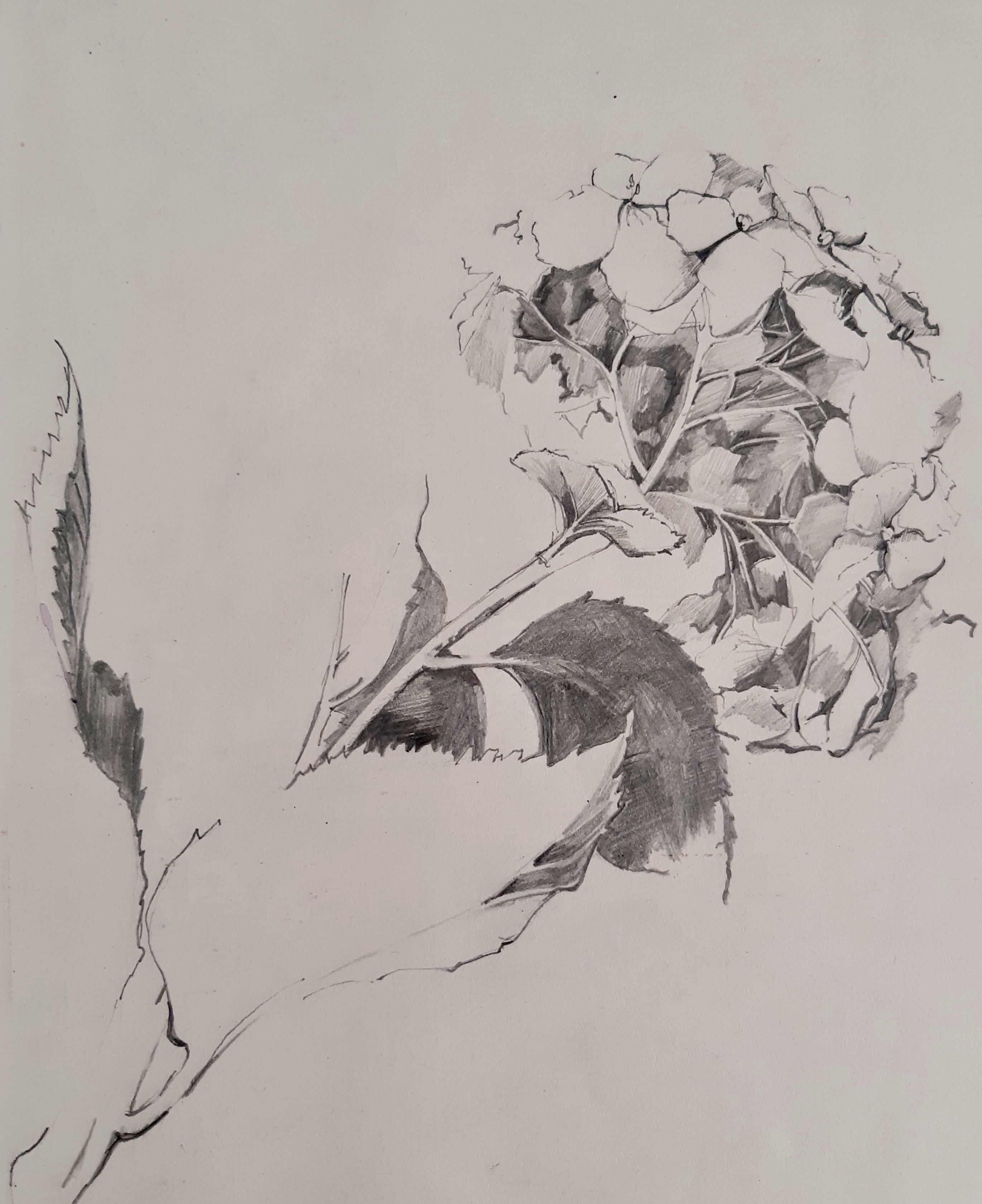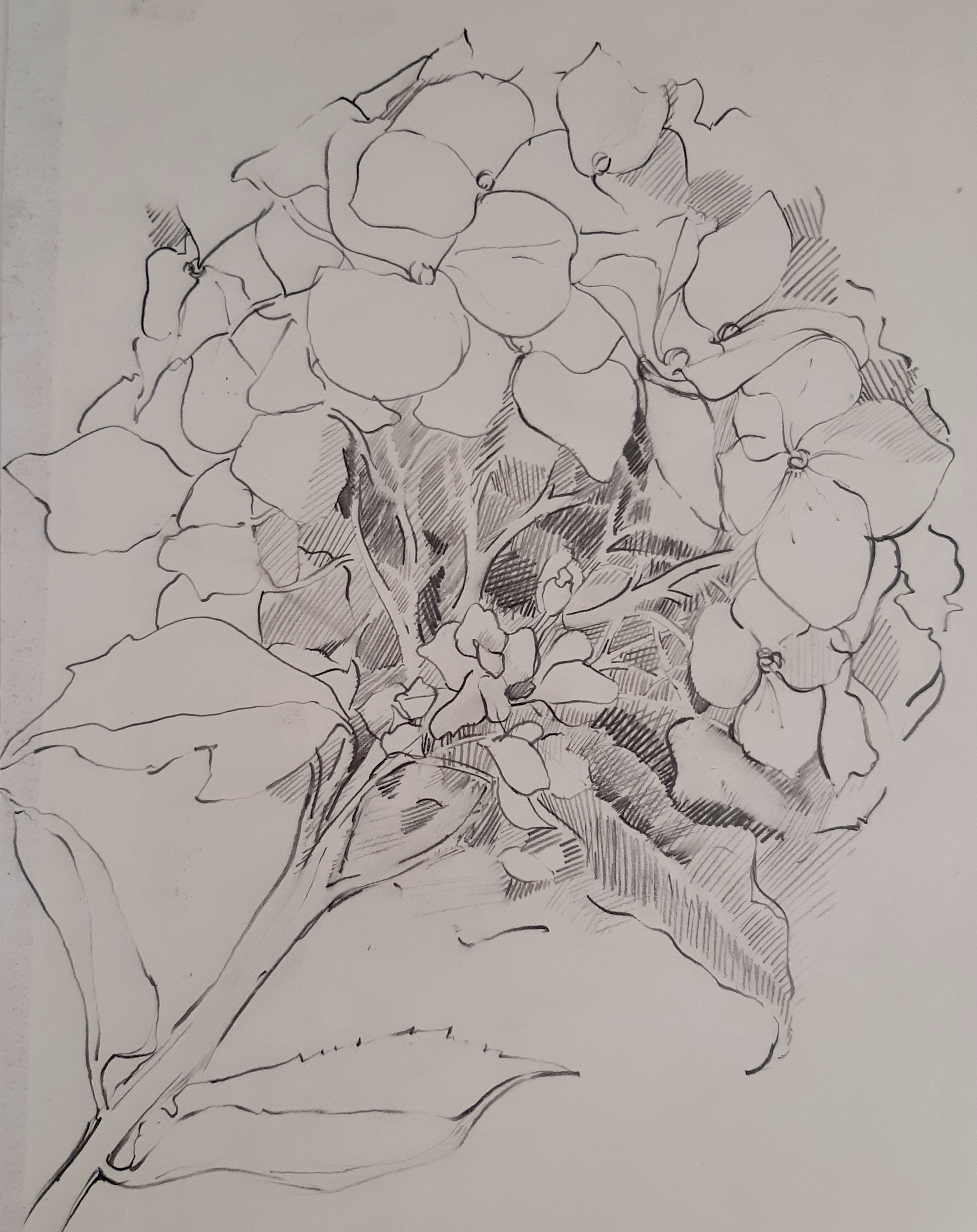 Christine Jeffryes, "Sketchbook Drawings", 1978

Interview with Glenis Cheesman, 17th August 2020
Glenis Cheesman, "Evening Classes at Hilderstone (with Christopher's Demonstrations)", early 1970s

"I first met Chris in 1971. I'd been to teacher training college and done art but never had any drawing lessons, so I signed up for drawing lessons at the Adult Ed. The man who was running them was actually an art teacher from the local grammar school. He said, 'You really need to go and see this man.' So he referred me to Chris, who was teaching at Margate Art School at the time and running art classes in the evenings. So I didn't go to the art school other than for evening classes. I then went to his classes in the evenings until he died.
I initially went to life drawing classes once a week, but he would then invite people into his portrait classes if he thought that there was a model that interested them. Although I was an adult–in my twenties–by the time I got to him, I quickly learned that I didn't really know very much about drawing! I could draw a little bit. But he worked on that. He just had this huge enthusiasm for getting people to draw and to paint.
When you were a part of his class he tried to involve you, more or less, in his life. There would be invitations to go out painting at weekends, or to join other drawing classes. I still draw. Many years later, I'm still doing life drawing. But what I know when I'm drawing is that the teaching I got from him underpins all of my drawing. I haven't had a teacher like him since, other than maybe Matthew, his son. Which is why I asked if you'd asked Matthew, because Matthew took his lessons over when his father died, in the same venue.
He [Chris] didn't actually teach you to draw: he taught you to see. To appreciate what you were actually looking at. He didn't seem to care very much what you used to draw with. That didn't seem to be important to him. What was important was actually getting out that joy of looking and trying to record that on paper."
"His paintings were really well composed. He just had an eye. I think that's a hard skill to teach. But he might suggest that you look at something in a different way, or notice something that you perhaps hadn't noticed, be it a shape, a colour, the positioning, or something. I guess his drawings were precise, but they were also free. They weren't precise like architectural drawing, but he had as much detail in his drawing as an architect would have. But it had a freedom, a looseness and a joy that you wouldn't necessarily see in
other, very precise drawings."
Glenis Cheesman, "Evening Classes at Hilderstone (with Christopher's Demonstrations)", early 1970s

"He was highly articulate. He could easily explain what he was talking about. He would also–whilst he was talking to you–if, for example, he was trying to teach you to draw a wrist, a hand, if he could see you were struggling with that, he would draw on the corner of your paper. But he'd talk about the anatomy that sits under the skin. Under what you could see. He'd talk about the anatomy of the body, and the muscles, and in that way I learned anatomy and human biology, without knowing… without having proper lessons in that. So the other thing that I have now, because of his teaching, is an understanding of how the body works, how the skeleton… the muscles work to produce the shapes that they produce. So I thought that was a really clever way of teaching. That's probably from his formal education, from art school, bringing it… but in a very informal way."
"The other thing I remember, from going to his house - which was as warm and welcoming as he was - was that he had his old pallets on the walls in the cellar, almost as if they were also works of art. I remember those. I mean, I said the cellar, I know it's where the wine was kept! He made his own wine as well. And he used to invite us back after class to his house for wine and cheese on toast."

"If you went to the pub, he sat drawing the people around him all the time. […] He talked to you about what he found interesting in that person's face, or the way they were sitting, or whatever. He'd talk about his work to you and try and get you to draw it as well, give you a piece of paper and a pencil. […] It might not be about features of the face. It could be just about the way light fell on the face, the shadow. It could be… it could be whatever took his attention, really."
Interview with Gregory Alexander


L&B: Could you please begin by introducing yourself?

GA: I am a painter. I work perceptually often painting landscapes but also I like the figure. I regularly work in situ – but I also like working in the studio.

I began studying painting and drawing formally as an adolescent at about the age of 14, although I had drawn and painted and made things as a child – there were always materials freely available at home and I was always encouraged by my parents – my mum was interested in crafts and worked as a dressmaker before she was married – there were always scraps of material available and encouragement for any of my projects – which were many and various. I was sickly as a child – with long periods ill at home and I often drew, and painted and made things to occupy me.

I attended my father's evening drawing classes, and also my brother Matthew's evening classes at the old Margate School of Art (later Hilderstone Adult Education Centre) and went landscape drawing and painting with them both on the weekends throughout my adolescence. I left Hartsdown Secondary School at 16 and went to Canterbury College of Art – initially enrolling in the textile department and then at 17 the Foundation Course (where my father taught) – continuing to attend evening classes at Hilderstone every weekday night (drawing and painting on Monday, French on Tuesday, Life Drawing on Wednesday, Printmaking on Thursday and portraiture on Friday). Later in the early 1980's I taught painting and drawing at Hilderstone.


"I grew up thinking everyone had a studio at home – and everyone drew."


I went to West Surrey College of Art and Design (Farnham) from 1978 – 81 doing a Fine Art Degree specialising in Painting. I spent a term on exchange at l'Ecole des Beaux Arts, Aix-en-Provence during my undergraduate studies – but spent most of my time there drawing and painting the City of Aix and it's immediate landscapes (rather than attending classes). I would hire a bike and ride out along the Route Cézanne towards the village of Le Tholonet to paint Mont St. Victoire – the mountain that dominates the landscape in that region – and was painted so often by Cézanne.

After I graduated I returned to Aix and other parts of Southern France and Italy many times to paint the landscape. I also went to Cyprus for the first time in 1978. My Dad was teaching on the Summer Course at the Cyprus College of Art in Paphos (run by Stass Paraskos) we went as a family. I loved it and returned again the following year – falling in love with Cyprus, its history, its climate, the landscape, and the people, returning again in 1984 to live there for a year.



In 1981 after graduating I went to Kenya for the first time. I'd met and became friends with a very interesting amateur artist and expat Margaret Adams whilst on the Summer Course in Cyprus. She became a patron and friend to me - like a wonderful grandmother or elderly aunt. An autodidact - she was extremely well read and worldly, she lived half the year in Africa and travelled the rest of the time – attending concerts, galleries and visiting her wide circle of friends. She invited me to stay and paint with her on her property on the east coast of Kenya (not far from Mombasa) – she paid my airfare and I spent a glorious month painting around her property and the environs. Needless to say it was heaven – and I developed a long-standing affection for Kenya, and the people – returning many times during the following 15 years and traversing the country. In 1994 I published a book of paintings illustrating traditional Kenyan folktales.

It was on one of my many trips to Africa that I met my future Australian wife, Francesca. We actually met in Egypt and married in 1991. I migrated to Australia to live in 1993. We currently live in Melbourne her home town – probably the most European of the state capitals. I love it.

For many years I earned my living selling my paintings – in London and in various regional galleries. I continued to do the same after I relocated to Melbourne – having shows in UK as well as Australia. By the time I was in my 40s (I realise now) I was a bit burnt out and felt increasingly isolated – working in a studio and wanted more social interaction. I decided to do a postgraduate research degree and enrolled at Monash University here in Melbourne to do a Master of Fine Art. I was keen to critically review and reinvigorate my practice, I also became very interested in community arts. I had various residencies in schools and worked for a time for the Victorian Arts Centre as an artist/teacher. I ended up working for a children's art centre here in Melbourne called ArtPlay. Here I co-ordinated a drawing program for community and primary aged children and each year we ran our own Big Draw Festival – running programs for school children and families. I also began lecturing in drawing at Monash University – where I continue to teach.


"He would often draw in pubs, cafes, on trains, on the beach – during work meetings – anywhere and everywhere."


L&B: To what extent did your father's art and his career in teaching inform your upbringing and home life?

GA: My father's passion for drawing and painting informed all aspects of my childhood. I grew up thinking everyone had a studio at home – and everyone drew. My father was a natural and enthusiastic teacher – he gathered people around him and was almost constantly teaching. Hence our lives revolved around him and his passion. He was either teaching or drawing/painting himself. He carried a sketchbook with him always and was constantly drawing in it. He would often draw in pubs, cafes, on trains, on the beach – during work meetings – anywhere and everywhere - and would sometimes give these drawings away to the people he drew. People were delighted and surprised – as he had a real talent for capturing likenesses, and he and we as a family made many lasting friendships this way. It was therefore very natural for him to teach me about drawing and painting – firstly by example – and then later more formally.


L&B: Do you have any particularly resonant memories of your father's teaching?

GA: I learnt mostly in a natural and informal way by painting and drawing alongside my Dad – watching him as he drew and copying what he did. However, if I ever asked him a direct question about how to draw something he would take the time to produce the most wonderful drawings to explain a principal or idea – he was particularly expert in perspective – and had an uncanny understanding of anatomy - looking back I realise how lucky I was to have absorbed so many of these lessons so early (even if I choose to ignore or even reject aspects now). He taught me formally when I studied at Canterbury - I attended his life drawing classes, and learnt a lot about perception and drawing from observation. He had a very analytical approach – based on developing understanding of the figure, its structure and its relationship with space. He taught me about measurement, proportion, form and mass. He made me very aware of light and the importance of light and tone and its importance in drawing and painting. He also was quite experimental with materials and I developed a quite sophisticated and broad material intelligence early.

L&B: How influential has your father's artistic style been on your own work? Was it ever a case of taking up the mantle? Or building on his approach? Or perhaps rebelling against it?

GA: Exposed to so many ways of working and with such a broad understanding of materials and methods from early on, I had a variety of options as to how to express myself. My father encouraged what he saw as an intuitive sensibility towards colour – and an ability to use colour in a perceptual but also expressive way. I also fell in love with the medium of watercolour and was able to develop a quite individual way of using watercolour that led to a successful career as a watercolour painter this helped me to define myself as an individual beside my Dad and brothers and helped me forge my own career as a painter and helped me be elected to the Royal Watercolour Society at an early age – which opened many doors to opportunities to exhibit around the country. Dad died when I was 22 – just in the year after I graduated from Farnham – and right at the start of my professional career, I was already defining an individual path for myself and his tragic death encouraged me to pursue the dream of being a self supporting artist wholeheartedly.

For more information and to view more of Gregory's work, please visit his website.
www.gregory-alexander.com


---

A note from Gregory about the images...
These drawings were all produced from 1975–1977, when I was a teenager and Dad was in his late 40s and early 50s. They are either of Dad – or in one of his or Matthew's classes at Hilderstone Adult Education Centre in Margate, or in his class at Canterbury College of Art – or alongside him in and around Thanet. All drawings are from Sketchbooks – Dad encouraged all his students and sons to always carry a sketchbook and try to draw every day.

Fig. 1 "Dad", Charcoal & Pencil
Fig. 2 "Life Room, Hilderstone", Charcoal
Fig. 3 "The Old Ring Shop, Margate", Watercolour Pencil
Fig. 4 "Dad's Portrait Class", Pencil
Fig. 5 "Drawing from Friday Evening Portrait Class", Pen & Ink Wash
Fig. 6 "Life Class, Hilderstone", Pen & Ink
Fig. 7 "Life Room, Hilderstone", Compressed Charcoal
Fig. 8 "Drawing of Dad", Pen & Ink Wash
Fig. 9 "The Wellington Pub", Pen & Ink with Ink Wash